Device for an Armorial Achievement & Reverse of a
Great Seal for the United States of North America:
Proposed by William Barton, Esq.
Blazoned according to the Laws of Heraldry.
Arms.
Barry of thirteen pieces, Argent & Gules; on a pale, Or, a Pillar of the Doric Order, Vert, reaching from the Base of the Escutcheon to the Honor point; and, from the Summit thereof, a Phoenix in Flames with Wings expanded, proper: the whole within a Border, Azure, charged with As many Stars as pieces barways, of the first.
Crest.
On an Helmet of Burnished Gold, damasked, grated with six Bars, a Cap of Liberty, Vert; with an Eagle displayed, Argent, resting thereon; holding in his dexter Talon a Sword, Or, having a Wreath of Laurel suspended from the point; and, in the sinister, the Ensign of the United States, proper.
Supporters.
On the dexter side, the Genius of the American Confederated Republic: represented by a Maiden, with flowing Auburn Tresses; clad in a long, loose, white Garment, bordered with Green; having a Sky blue Scarf, charged with Stars as in the Arms, reaching across her Waist from her right Shoulder to her left Side; and, on her Head, a radiated Crown of Gold, encircled with an Azure Fillet spangled with Silver Stars: round her Waist a Purple Girdle, embroidered with the Word "Virtus," in Silver a Dove, proper, perched on her dexter Hand.
On the sinister side, an American Warrior; clad in a uniform Coat, of blue faced with Buff, and in his Hat a Cockade of black and white Ribbons: in his left Hand, a Baton Azure, semé of Stars Argent.
Motto, over the Crest – "In Vindiciam Libertatis."
Motto, under the Arms – "Virtus sola invicta."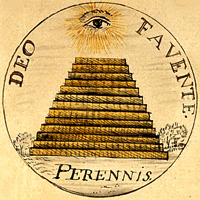 Reverse of the Seal.
A Pyramid of thirteen Strata, (or Steps) Or, and, on the Summit of it a Palm Tree, proper. In the Zenith, an Eye, surrounded with a Glory, proper.
In a Scroll, above, or in the Margin –
"Deo Favente."
The Exergue – "Perennis."