For the reverse side Barton suggested a pyramid of thirteen steps with a radiant eye above it. His sketch (below left) was undoubtedly influenced by the pyramid on the $50 Continental Currency note (belwo right) designed in 1778 by Francis Hopkinson, the heraldry consultant and artist on the second Great Seal committee (1780).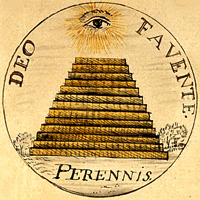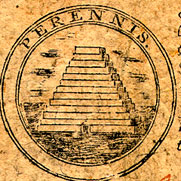 Upper motto: "Deo Favente" – With God's Favor (lit., God Favoring)
Lower motto: "Perennis" – Everlasting (lit., Through the years)
Read Barton's description of his complex design – an excellent example of how the science of heraldry precisely describes an image.
Once again, Congress was not impressed and a month later turned over Barton's design – along with the other two committee designs – to Charles Thomson, whom they counted on to come up with a Great Seal worthy of their victorious new nation.
Barton said, "the Dove (perched on the right Hand of the Genius of America) is emblematical of Innocence and Virtue." And... the "Pyramid signifies Strength & Duration."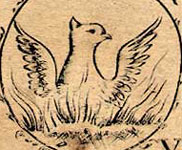 *He said, "the Phoenix is emblematical of the expiring Liberty of Britain, revived by her Descendants, in America." Earlier there had been a mythical phoenix on South Carolina's five-shillings note (left) issued in April 1778.
(Barton used another bird, a rooster, at the top of his first design which was even more complex than the one suggested by the third committee.)

In 1788, Barton wrote a letter to George Washington about the importance of heraldry. In his reply to Barton, Washington expressed concern about the anti-federalist faction hostile to the new Constitution.